No more paper!
Enter the digital age with


Digitalization in the context of pharma is tied with costly extra effort. There are many powerful digital document management solutions on the market, but they are all expensive to implement and maintain, putting them out of reach for so many companies.
TEMIS turns the status quo upside-down by offering comprehensive digital document management at a price range anyone can afford and without compromising security and compliance.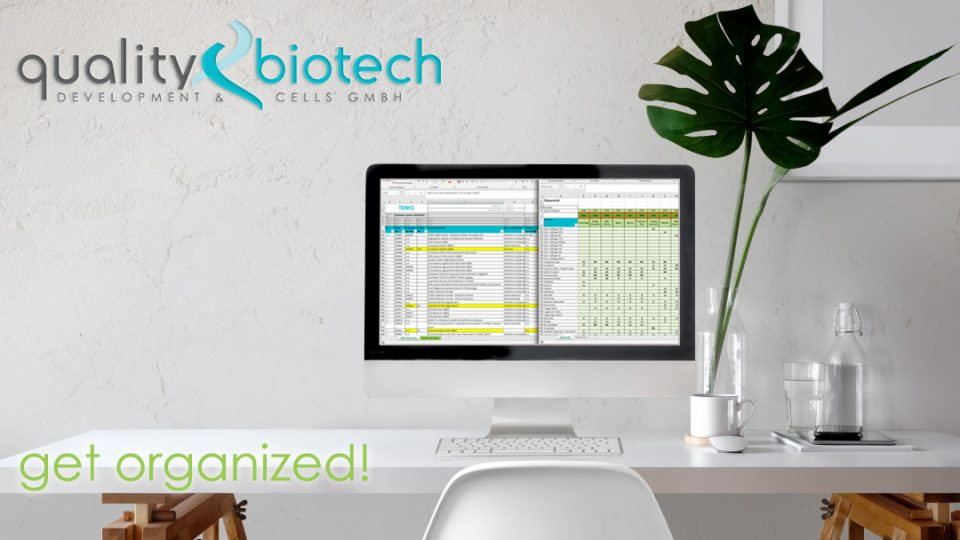 TEMIS is the tool of choice for pharma and biotech start-ups, SMEs and small section of large companies, who seek an affordable, efficient way to organise all their business-critical documents and media.
TEMIS is cGMP-compliant, adhering to the g overning standards by FDA and EMA amongst others. Thanks to its adaptivity, TEMIS can be set up to suit every filing need easily and is ready to go in less than 30 days.
We offer several license packages with varying amounts of implementation consultancy, training, customer support and future addons.
Microsoft Excel as the framework and entry point for TEMIS
TEMIS integrates seamlessly into Microsoft Excel as a plugin, which benefits you on a management, team leader and end user level, and even when interacting with third parties (suppliers, CDMOs, consultants). TEMIS requires no additional software or hardware except for a Microsoft Office subscription, which is likely already available or easily obtainable. TEMIS builds on the well-established Excel interface, making lengthy training courses obsolete and allows quick readiness. Finally, developing TEMIS for Excel allowed us to keep development and validation costs low, which we hand over to our customers as a low license fee that is significantly less than our competition.

One of the TEMIS ribbons, in this case the Manager ribbon. Shown are buttons for creating and moving documents, editing database entries, searching the database, and handling the audit trail.
Excel is a great catalyst that makes TEMIS
easy-to-use, affordable, yet powerful and compliant.
TEMIS is far more than a simple Excel worksheet. Not only does TEMIS collect document metadata and references, but also manages entire folder structures in the background when certain actions are performed. Releasing a document does not just set a document status to effective, but also moves the associated files from a limited access directory to one that is available to all users (while also write-protected). This allows the filing of documents in their digital form instead of paper, also signed scans, and even non-printable file types like MS Office templates, facility blueprints, mindmaps, audio and video. Watch the following video, to get a feeling of what TEMIS is doing.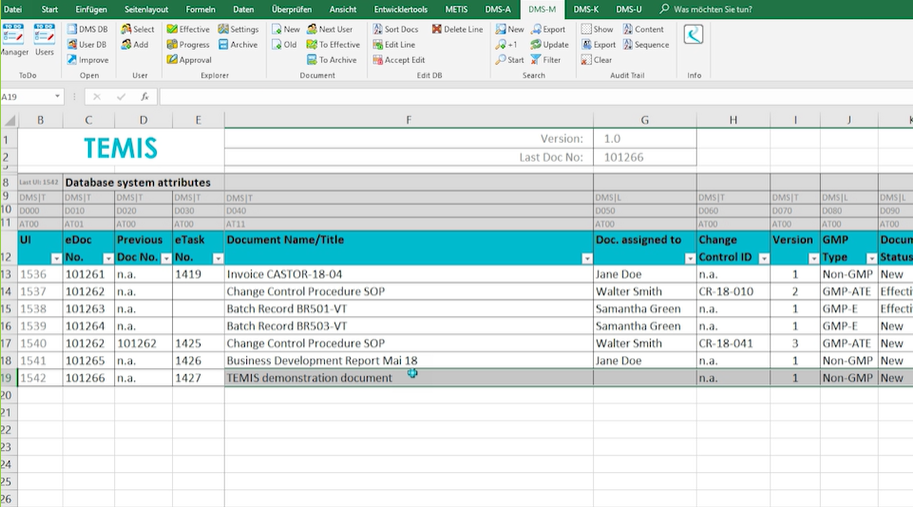 Finally, TEMIS is multi-user capable. While it is possible with newer Office versions to work on the same file simultaneously, the feature is not reliable enough for a GMP environment. TEMIS uses a combination of different user levels and access permissions to allow simultaneous creation, approval, training of any number of documents, while a designated TEMIS Manager makes sure to assign, supervise, release and archive documents.
Prime applications for TEMIS
While TEMIS benefits any company who seeks to digitalize and organize their documents, there are several situations in which our software is extra valuable.
STARTING UP
Pharma and biotech newcomers like start-ups, but also lateral entrants who explore new territory often underestimate the benefits of a structured, reliable and fast system for document management. At the same time, regulatory bodies like the US-FDA have increasingly higher expectations to documentation systems and demand data integrity and traceability.
With TEMIS, our customers are given the means to manage and organize their documents efficiently right from the start, instead of being reprimanded by the authorities later on.
JOINT VENTURES
When several companies work together on a shared project, it is not uncommon that overlapping documentation systems clash. It is one challenge to keep hundreds of documents of a company in check, but an even bigger one if the documents enter the system from multiple sources.
With TEMIS, several companies can draw the documents they bring into the project from their own system into TEMIS, and attribute it them with a link to their origin. TEMIS can become a shared system that is remotely accessible by all and secure, making physical copies and physical presence unnecessary.
DUE DILIGENCE
Due Diligence is the process of providing deep insight into the company's inner makings to an outside party such as a partner, regulatory bodies or an investor.
The outside party demands a data room which consists of all documents and binders that might be of interest to the party. Creating this data room is a tedious, work-intensive task that can sometimes take weeks to conclude. With TEMIS, data rooms can be created quickly with comparably little effort.
Commit to TEMIS and you benefit from …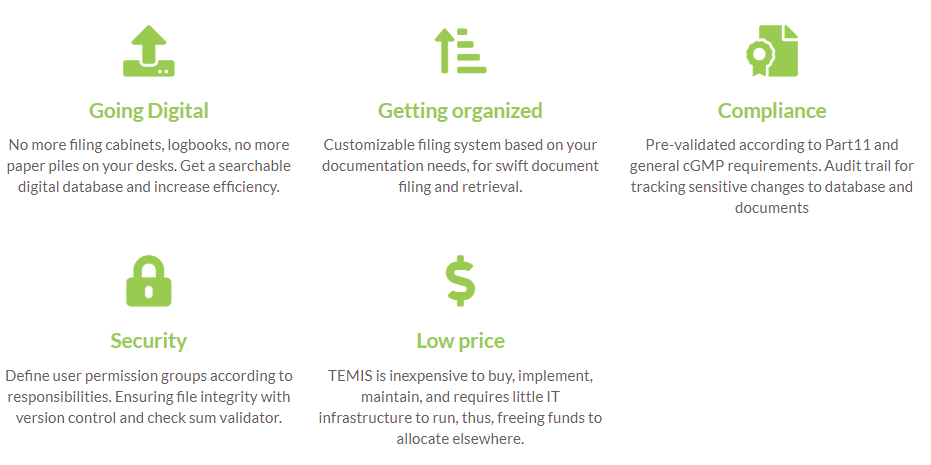 Find documents with a few clicks
One of the major TEMIS benefits is the ability to search and filter documents. In the current digital age of computers and smartphones, this might not sound like much. However, in a pharma context, where most companies still manage their documents and data on paper, TEMIS is a game changer.
By attributing documents with keywords, TEMIS keeps track of the documents' metadata, which in turn allows for a fast and efficient search of the database as seen in the video above.
GMP-compliant and validated
TEMIS is a validated software according to Title 21 CFR Part 11, (short: "Part11"), which is the FDA regulation (and the industry standard) for electronic records and electronic signatures.
For a software like TEMIS to be compliant, its validation by the developer alone is not enough. TEMIS requires the right environment to comply with regulations. This means, the customer must perform a few on-premise checks to ensure the existence and enforcement of mandatory GMP procedures like Document Control and Change Control, and must demonstrate that reliable file backup and user rights distribution systems are in place. To prepare your internal procedures, download our Part11 Assessment to use as a guideline and checklist.
A validated environment is not mandatory for TEMIS to work as intended, but if GMP-compliant production is a mid- or long-term goal, then we recommend trying to meet these requirements rather sooner than later.
Personalized offers
We offer TEMIS in different subscription models: Basic, GMP standard, and GMP premium, starting at 9,900CHF per annum. All license options apply site-wide, regardless of user number.
Not included in the license are partners, affiliates, subsidiaries or parent organizations of the purchaser.